It's not all about the work bit of work these days, is it? We know that you spend your best waking hours at work so we want to do more than just pay you. And that's where our perks come in! We'll give you a quick run-down and then tell you more about them below...
Here goes...
It also goes up by one day each year until it reaches 30 or 35 days. Yay!
You'll get the opportunity to buy and sell up to one week of leave at certain points of the year too.
We know it might sound a bit boring, but that money comes in handy for retirement!
This is a big one for us. You can work anytime, anywhere, as long as it also works for our customers and the business.
Check out our page on hub, home, roam. 
We really want to help you get the best work life balance you can. Check out our Twitter and LinkedIn feeds to see how colleagues make it work for them.
Once you've been with us for three months you'll get access to Health Shield. It's a healthcare cash plan which means you can claim back on things like dental costs, prescriptions, physiotherapy and massages, as well as have access to a 24/7 GP helpline.
Log into your app and get money off holidays, take aways, shopping (includes most supermarkets), eating out and more. You also get some free points added to your account each month that you can spend on what you like! It's just another little way we say thank you.
We want you to be able to do your bit and support the organisations that mean something to you. You'll have up to two paid volunteering days per year to help out in your community.
Wellbeing isn't just mental health, it also covers physical, social and financial health too. Our colleague wellbeing support covers each of these areas with things like gym discounts, a 24 hour confidential helpline, free counselling and access to money management workshops.
This one's simple. You get a whizzy new bike and pay for it monthly. You can save a load of money, too (thanks to the government).
Our social squad put on challenges, quizzes, events and competitions to make Yorkshire Housing a fun place to work.  We host events at our hub, The Place, in Leeds too.
We'll kit you out so you can do your job in comfort. Order items like desks, chairs and SAD lamps from our online catalogue.
There are different levels of pay depending on how long you've been with us but once you've been here for a year, you'll get more than statutory.
Beep beep! You'll get a car allowance if your role needs you to travel.
If you'd like to donate to charity, you can 'give as you earn' and donate to your chosen charity straight from your salary each month.
Wow! What a list.
If you'd like to join the family and have a great career at Yorkshire Housing then check out our latest job vacancies on that handy button below.
Check out our latest job opportunities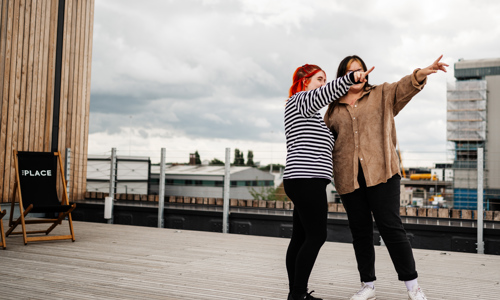 What else have we got for you?
You'll have a better idea about what you get in your package at Yorkshire Housing now.
But there's more to it than just perks (although we do like those a lot!). Get the lowdown on our culture, development opportunities and our wellbeing support.