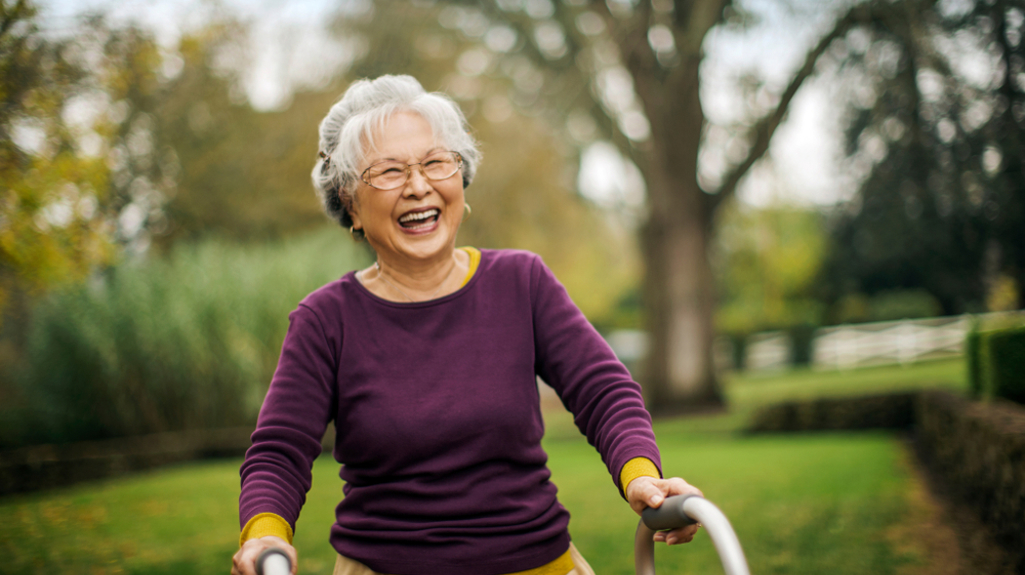 What are adaptations and are they for me?
Your independence and being able to stay in your own home is really important to you. But sometimes life can be tricky and you might be struggling to do some of the things you used to take in your stride.
So, if you live in a Yorkshire Housing home in any area, you might be able to have changes (we call them adaptations) made to your home. Adaptations can make it safer and easier for you to get around and do everyday things like getting in and out of the shower or turning taps off and on easily.
Depending on what you need and your circumstances, you might be able to get the help you need for free.­
The right changes can make a big difference and might be just the thing that's needed to help you carry on living safely and securely in your own home. 
Types of adaptations
There's lots of different things that can be done to make your home safe for you and your needs. Some are simply a case of changing out fixtures and fittings, others involve a bit more work.
They could be things like:
Fitting a stairlift or a handrail to help you get up and down the stairs
Adding grab rails (in your bathroom or at your front door)
Installing a level access shower (sometimes called a wet room)
Installing an outdoor ramp or step handrails
Extending or widening steps or doorways to make more room for walking frames
Fitting new tap handles (sometimes called lever taps) if yours are difficult to turn  
Qualifying for home adaptations
You'll need to live in a Yorkshire Housing home to qualify. Depending on your circumstances and what you need, we might be able to do them for you, or they might be done by your local council. If you don't live in a Yorkshire Housing home, head over to our privately owned or rented adaptations page. 
You're probably thinking that getting home adaptations is going to be pretty complicated. But don't worry, we're here to help.
The first step is for you to get in touch with us for a chat.  You can tell us all about the problems you're having and together we can decide what help you need and find out what financial help you can get. We can also talk to a family member, friend or neighbour too. So, if you want to chat on behalf of someone else, you'll just need their permission.
Depending on what's needed, we might be able to provide funding but you might also need to have what's called a 'needs assessment'. This is done by your local council. They'll send someone out to your home, usually an occupational therapist or a social care coordinator. They'll work out what you need, and if you can get some financial support.
If you do need an assessment, we can help to organise all of this and guide you through the process.
Depending on what you need and your circumstances, you might be able to get the help you need for free.
We'll be able to pay for some of the smaller adaptations, things like grab rails and taps. And if you've been assessed by the council as needing larger adaptations, they usually cover the costs via a Disabled Facilities Grant.
Support for people with disabilities
Disabled Facilities Grants (DFGs) are offered by local councils to help people living with disabilities to modify their homes. They're available to anyone with any kind of permanent disability, including mental illness and physical and learning disabilities.
A DFG is managed and paid for by your local council's housing department and is only to be used for adaptations your local council has agreed you need.
The council will look at your personal circumstances, including your income, before they decide what financial support they can give you. There's an upper limit on the amount you can get, but local councils may agree to top this up in some circumstances.
Don't let the thought of lots of paperwork put you off. We're here to help you with your application and guide you through the process.
If you want to dive into the detail about DFGs, here's some more useful info:
Have you ever thought, "I wish I had someone who could help me with some jobs around the house"?  Look no further – if you live anywhere in North Yorkshire (apart from Ryedale and Scarborough), our HandyTec team are here to help! Just so you know, this is a service you have to pay for.
They can help you with all sorts of jobs including:
Work to improve safety around your home - installing doorbells, security chains, locks and door bolts
Providing and fitting grab rails and external hand rails
Installing ramps or half-steps
Putting together flat-pack furniture or putting up shelves or pictures
Replacing light bulbs and taking down/putting up curtains
Supplying and fitting key safes
They're Registered Trusted Assessors, which means they're qualified and trained to an accredited standard, and can visit your home to help figure out what you need to help you to live independently. They're also security checked so you'll be in safe hands. 
As well as being top notch professionals, they're also a lovely, friendly bunch – which we think is just as important!
Get in touch with us if you want to find out more about how our team can help you.
FAQs
We'll always try to help you to stay in your own home and live independently.
We might be able to carry out the work that's needed but sometimes, we may have to look at other options like moving you to another Yorkshire Housing home that's more suitable for your needs. We're investing in building new homes specially for people with disabilities and this might be an option, particularly if you have a family.
Your local council will also have a register of housing that's suitable for people with disabilities or homes that can be more easily adapted. 
We'll never force you to move out of your own home, we'll always work with you to find the right solution so don't worry.
If your local council carries out a needs assessment and decides that you need specialist disability equipment, they'll provide it free of charge up to the value of £1,000. If it's a Yorkshire Housing property we'll do the same.
If your local council carries out a needs assessment and decides you don't qualify for help, they won't be able to give you any equipment or carry out any adaptations. But they still have to give you free information and advice, for example about where to buy equipment, and about other organisations and charities that might be able to help.
You can also ask your what support they offer or contact us.
You'll be encouraged to take out an extended warranty to cover the servicing costs or any repairs, which might be needed for equipment you've been given.
Get in touch with us
It's easy to get in touch. Just fill in the form and we'll get back to you with how we can help. We can also talk to a family member, friend or neighbour too. So, if you want to chat on behalf of someone else, just make sure you've got their permission.
Looking for something else?
We've got lots to offer when it comes to helping people live independently. If you need a little support or a lot, we've got something that fits the bill!
Or you might fancy volunteering with us? We've got loads of opportunities that'll make you feel good while you're doing good!