Want to know more about our different types of tenancies?
Can't get the boiler on, stumped by a DIY task (it's happened to us all!) or wanting to save money on bills? Or maybe you want to live a little more sustainably.
You've come to the right place for all sorts of useful info about your home!
We've even got some handy links for making your own cleaning materials and ideas on growing your own veg too. We want to help you make your house a home you love!
'How to' for easy home repairs and maintenance.
Sometimes resetting your boiler is all it takes to get it working again.
How to reset your boiler:
1. Push the reset button for up to 10 seconds
2. Wait 2-3 minutes for the boiler to start back up
3. Repeat it twice if the first go fails
4. If it still fails to fire up on the third go, double-check the gas supply is on.
Struggling to understand your boiler? Find the manual here. Boilers can stop working if the pressure is too low. If the pressure gauge reads below one you'll need to repressurise it. This YouTube video explains how to do this.
If resetting and repressurising the boiler doesn't work, you need to contact us to report a repair. The boiler will show a fault code on the display screen, make a note of this so you can let us know what it says. 
You shouldn't have to reset or repressurise your boiler often, so if it keeps going off get in touch to report a repair.
1. Make sure that the electricity is turned off first – just flick the switch on the fuse box to 'off'.
2. Let the bulb cool before touching it.
3. Take the bulb out of the socket and carefully fit the new one in. Depending on your fitting it might be a screw bulb, bayonet cap or a G9 or GU10 bulb. Most lightbulbs have instructions in the box if you're not sure how to fit it.
4. Once it's fitted, flick the fuse box switch back to 'on' and test your bulb.
If your toilet seat is broken, cracked or feels loose, then you can change it. All you need to do is:
1. Remove the bolts that hold the toilet seat to the actual toilet and lift the seat away – you'll need to unscrew them with a screwdriver.
2. Line up your new seat and attach the seat to the toilet with the new fittings and slot the bolts through the toilet fixture holes. You might need some pliers to do this.
Prefer to watch a video? This handy video walks you through what to do.
You need to bleed your radiators if you notice any of these common problems.
The top is cold
The entire radiator is cold
They're rattling or making gulping and gurgling noises
If your radiators are working, it's still a good idea to bleed them once a year to prevent any problems.
What you'll need:
Radiator key
Bucket or mug
Old cloth or towel
Safety gloves
How to do it:
1. Start with the radiator on the lowest floor and the furthest away from the boiler.
2. Pop your radiator key in the valve at the top of the radiator. Hold your old cloth or your bucket/mug just under this and slowly turn the key anti-clockwise until you hear a hissing noise.
3. When the hissing stops and it's just water coming out, tighten up the valve again by turning the key clockwise.
4. Repeat on all your radiators.
5. Turn the central heating back on and check to make sure that each radiator has heated up evenly.
6. Check your boiler pressure as sometimes bleeding your radiators can make the pressure drop. If you need to repressurise your boiler, you can follow these instructions.
Watch this handy video on how to bleed a radiator.
Understanding how your heating system, boiler or solar panels work can be tricky. Find the user guides and manuals here.
Head to our health and safety area to find out more about how to stay safe at home. We've got lots of info on gas, water, electricity, asbestos and fire safety.
Heating your home
With the cost of gas and electricity going up, heating your home efficiently is more important than ever.
Here are our top tips so you stay warm without spending more than you need to on gas and electricity:
Set your thermostat to between 18C and 21C for a warm and healthy household. Turning your thermostat down by 1C could save you £60 per year.
Use timers on your central heating system so you're only heating your home when you need to.
Block out any draughts so that warm air isn't escaping. Please don't block trickle vents, extractors or other ventilation as these are designed to help reduce the humidity in your home and the chances of mould growth.
Don't overuse electric heaters and fires - these can be more expensive than using your central heating.
Want to understand your home heating a bit better? Find the manual here.
Citizens Advice have up to date information on what grants and benefits are available to help you pay your energy bills.
Other tips for clean air in your home
These tips will make sure you have a healthy home.
- Don't make it nice for dust mites
Dust mites love damp, mouldy conditions. Decreasing humidity levels reduces the mites' ability to develop. Bedding, cushions and carpets should be frequently cleaned or hoovered, and mattresses flipped to help remove mites.
- Control smoky atmospheres
Smoke in the home reduces air quality. If you've got a fire or a wood-burning stove, make sure you clean it regularly to get rid of harmful dust or soot.
- Say goodbye to chemicals in your home
Household cleaners, hairsprays, deodorants and air fresheners can leave harmful particles in the air. If you're using any of these, open a window to clear the air.
If you want to have a go at making your own cleaning products, Friends of the Earth have some ideas for you.
If you see any sign of mould growth, you should contact us by sending an email or calling 0345 366 4404. We'll come and have a look and advise what the next steps should be.
We could increase the ventilation to the property using extra extractor fans which will help moisture escape
We might install mechanical ventilation systems which will help remove any moisture automatically
We might look at specialist mould treatment work in severe cases
We could arrange for your home's damp proof course (DPC) to be checked. If it's not up to scratch, we'll get the repair booked in
Sometimes we might fit a device to help work out where the moisture is coming from and how best to deal with it.
You can also help prevent mould and damp by following our tips on reducing condensation.
If you spot watermarks on your wall or ceiling, you should contact us by sending an email or calling 0345 366 4404.
Water or damp patches on walls or ceilings could be caused by:
A leak from your roof
Water coming in through the wall from outside
A failed damp proof course.
A surveyor will need to visit to find out what's causing the damp patches. The issues above need to be sorted out to avoid further damage and mould growth.
Looking after your garden
You might not be green-fingered, but there are a few things you can do to make sure your garden looks nice and tidy. We all love a bit of kerb appeal when we come home at the end of the day!
For example, you can:
Mow your law once a month to stop the grass from getting too long
Feed and water your plants regularly
Pull out the weeds from your path so it doesn't get overgrown
If you want to get more into gardening, but you're not sure where to start, Gardeners World has some great ideas!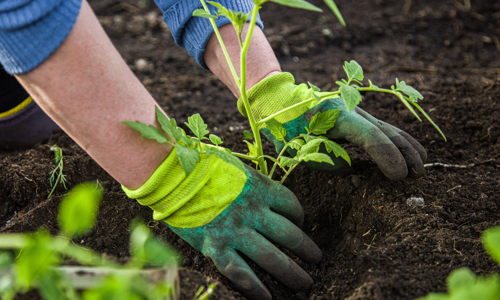 FAQS
Kitchens – every 20 years
Bathrooms – every 30 years
Boilers – every 13 years
Windows – every 40 years
Fencing – every 15 years
We also refurbish roofs, doors, paths and radiators too.
If you have any minor cracks and holes, then they're your responsibility to repair as part of general preparation for decorating.
If you think the cracks are more serious, get in touch and we'll chat to you about what happens next. We could send a surveyor to inspect the condition of the walls and advise what needs doing.
Draughts can make your house feel cold and you could end up spending more on heating. There are a few quick and easy things you can do to keep draughts out.
First of all, find where the draught is coming from. Usually, you'll find draughts around your doors, letterbox, windows or loft.
Cover the gaps and openings to the outside.
For windows, you can use self-adhesive foam, metal or plastic strips.
For doors and letter boxes, you can use internal brushes. Draught excluders are another option for doors too (and you can get some really cute designs from snakes to foxes!).
Your house does need some air flowing through to stop it from getting damp so make sure you don't block:
Ventilators
Extractor fans
Chimney openings
Trickle vents to windows, where fitted
And, don't draught-proof rooms where there's:
Already condensation and mould growth
A gas cooker or fuel-burning heater.
More info
Want to be greener at home, and have some fun while you're at it? You can grow your own veg (even in a window box), make your own cleaning products and donate to charity rather than throwing stuff away.