Damp and mould 
We want to make it possible for you to have a place you're proud to call home. We take your reports of damp and mould seriously and we've created our customer promise so you know what to expect of us when you report it. 
Why does damp or mould appear?
Damp and mould are usually caused when there's too much moisture in the air. From doing normal day-to day stuff like boiling a kettle, cooking on the hob, drying clothes indoors or having a shower.
You might see condensation on your windows in the morning, or after you've had a bath, which is all pretty normal, especially during winter. But if that moisture builds up and can't get out, over time, it can cause damp and mould.
There's lots that can be done to prevent damp and mould from appearing in your home. And if it does become a problem, there's also lots we can do to help put things right.
Damp and mould leaflet 
You can check out our handy leaflet for some useful info about damp, mould and condensation too.
Our customer promise
If you need to let us know about damp and mould in your home, you can see what to expect from us below or on our promise document. 
We take a zero-tolerance approach to damp and mould. This doesn't mean we can promise it won't appear, but if it does, we'll get to the bottom of it quickly and help put things right.
If you have a severe case of damp and mould, we'll prioritise this as urgent and send our specialist response team to your home to carry out repairs and start to put things right.
We'll make it easy for you to report damp and mould to us either online or by phone.
We won't tell you that damp and mould is a lifestyle issue and leave you to manage it on your own.
We'll provide practical and helpful advice to help you prevent damp and mould appearing in your home.
In some cases, we'll provide you with smart technology to help you better understand how your home is performing – and reduce the chance of future cases of damp and mould.
Our specialist damp and mould team will manage your case and work with you to get things sorted.
We'll keep in touch with you after we've carried out any repairs to make sure you're happy with what we've done and that the damp and mould hasn't returned.
We'll prioritise cases of damp and mould to make sure we're dealing with the most serious cases quickly.
In some cases, finding the root cause of the damp and mould can be difficult and might take a little longer. Don't worry though – we'll make sure we find what's causing it and sort it out as quickly as we can.
How do I report damp or mould?
It's easy! Just fill out our handy form and our dedicated team will be in touch.
Report damp or mould here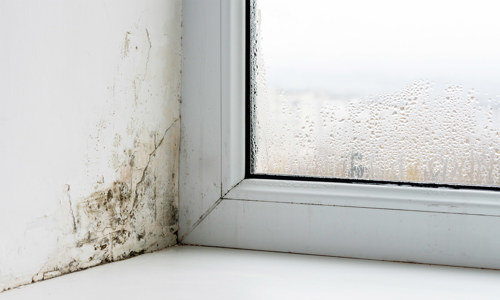 FAQs
A: If you see any sign of damp or mould, please fill out our damp and mould reporting form. If you prefer, you can call us on 0345 366 4404.
And what happens next? We'll come and have a look and clean down any affected areas. We'll also look at what we can do to stop the damp and mould coming back.
It can sometimes be tricky to find the cause of damp and mould, but there's a few different things we can look at.
We could improve the ventilation to your home be rewiring your existing extra extractor fans or installing new ones. We might also block up air vents that are no longer needed.
We might install mechanical ventilation systems which will help remove any moisture automatically.
We might look at specialist mould treatment work in severe cases.
We could arrange for a specialist damp survey to check whether any other issues with your home are causing damp in your property. If this was the case we'd then repair any defects identified during that visit.
Sometimes we might fit a device to help work out where the moisture is coming from and how best to deal with it.
Report damp or mould here
A: If you spot watermarks on your wall or ceiling, please fill out our damp and mould reporting form or call us on 0345 366 4404.
Water or damp patches on walls or ceilings could be caused by:
A leak in your roof
Water coming in through the wall from outside
A faulty damp proof course (DPC)
One of our surveyors will need to visit to find out what's causing the damp patches so we can get things sorted to avoid further damage and mould growth.
Report damp or mould here
A: Too much condensation can make your home feel damp and can give mould the right conditions to grow. Here are a few tips to stop condensation from damaging your home.
Make sure your home is heated
Keeping your home warm, with the temperature set to at least 16c, will help prevent condensation. Our heating your home page has more information about how to do this efficiently, and where you can get support with rising energy bills.
Dry your clothes outside if possible
Drying your clothes outside is one of the best ways to stop mould problems and condensation in your home.
We realise sometimes this isn't possible so if you're drying clothes inside make sure you open the windows and use extractor fans if you have them.
Open a window and shut the door if your kitchen or bathroom is getting steamy
You're most likely to find high humidity in your bathroom and kitchen. The best way to avoid condensation is to open a window and shut the door while cooking or having a shower or bath. Keep the door shut or window open until any steam has cleared.