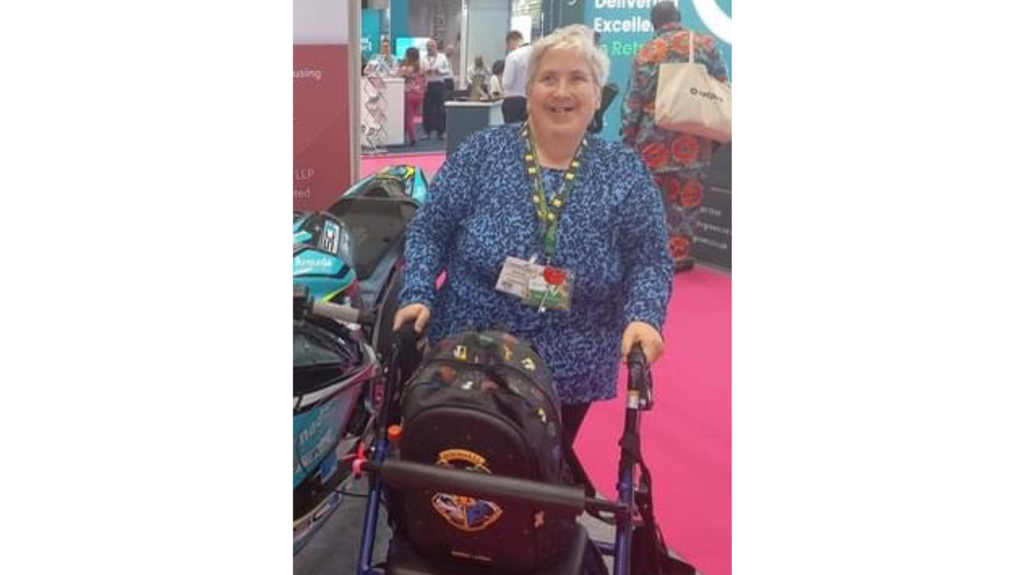 Mary Bottomley has been a Yorkshire Housing customer for nearly 22 years, and while she may not hold the record for the longest tenancy, she stands out as one of the most dedicated and passionate residents in the community.  
Over the past two decades, Mary has seen many changes within Yorkshire Housing and witnessed first-hand the challenges and improvements made for customers. Mary has also become a big support in addressing housing issues for disabled people, through being a member on our Customer Voice and Review Committee (CVRC).  
Mary's journey toward becoming a CVRC member and disability champion began during the early days of the COVID-19 pandemic. As the world was going into lockdown, she received an email inviting residents to join the Customer Complaint Committee (CCC). 
Despite her initial application to the CCC being declined, fate had something else in store. She was asked to interview for the CVRC at Yorkshire Housing due to her expertise and lived experience as a person with disabilities. Initially unsure, Mary decided to embrace the opportunity and her involvement with Yorkshire Housing deepened. 
Mary's participation with CVRC paved the way for her to become a disability awareness champion. Her commitment to raising awareness and championing for people with disabilities led to the creation of the "Disability Awareness Champion" role within the CVRC. Her commitment shows her passion for making a difference in her community and beyond.  
Mary's journey didn't stop there, as she applied for a position on the Social Housing Quality Resident Panel. Initially the spaces were limited, and she wasn't selected. However, fate stepped in once again. She received an email letting her know that the panel had expanded its membership to 250 people nationwide and had been selected.  
The Social Housing Quality Resident Panel is a place for residents to share their lived experience of social housing and provide feedback on government policies. Mary's role on the panel allows her to have direct communication with the Department for Levelling Up Housing and Communities (DLUHC). Together with her fellow panel members, Mary is committed to driving positive change and championing on behalf of Yorkshire Housing customers, especially those with disabilities.  
Mary's commitment to her community extends beyond Yorkshire Housing. She also works with Sheffield Voices, a self-advocacy group for people with learning disabilities and autism. Further to this, she's the representative from Sheffield Voices on the British Institute for Learning Disability and Autism (BILD), representing people with lived experience. Her involvement in all these groups highlights her dedication to being a voice for disabled people to make sure they're being heard. This represents just a small part of what Mary does to make a difference outside of her work with Yorkshire Housing. 
Her journey from a Yorkshire Housing customer to being a member of the Social Housing Quality Resident Panel and the roles in between, really demonstrates the potential for positive change when people are passionate about creating a better future for their communities.  
Mary is also taking part in "Four Million Homes" training. It's a government initiative designed to be a channel for change in social housing. It provides free knowledge, guidance and training to residents on their rights, and on the duties of social housing landlords.  
And on a final note – Mary wanted to set us all a couple of challenges. Her husband is blind, so these are close to her heart.  
Mary said: 
"If you ever find yourself holding the door open, especially for a blind person, please use your voice. This is because a blind person might be trying to find a door to know where they are, and if you're holding it open, they won't realise.

"If you're ever standing at a pelican crossing and you see a blind person, with or without their guide dog, please step back from the box with the button on. This is because there is a small cone underneath the box that points downwards and that start spinning so they know when it's safe to cross.

 
And to end on, here are three of her favourite quotes:  
"Don't see the person's disability, see their abilities.  
"Don't be afraid to ask if a person needs help. 
"Don't be afraid to ask a disabled person for help too."